Search Engine Optimisation / SEO
"Google wants you to do SEO, to find more relevant results for particular search but in a genuine way. Spammy SEO will get penalised harsh."
Lets start as if you are a novice in the SEO field. Take an example of librarian. A librarian is managing whole library with thousands of books. Now if you go to him and ask for a particular book whose name starting with A, than he will go in the row having A name books and search the book and give it to you.
Google is nowhere different from this librarian. The difference is just that librarian followed one simple step or in simple words his algorithm consists of simple one step. But google Algorithm is complex. It also searches like a librarian but it has more than 10000 big or small ranking factors involved in it and based on these ranking factors it provides us with best content.
We will discuss here about how google decide to rank  our website, how these factors help in getting google ranking. If we go simple what matters to google is
Word Matters :- The first step the google searches while any search is made on google is how many pages on there server contains that word. It make a queue for that.

Title Matters :- Second thing that matters is Title , it will start searching of how many pages the same keyword is used as title. Google never likes that you have given same title to 10 pages of your website. How could that be useful. How can 10 things be having same title.

Link or Backlinks Matters :- Link matters but the spam or violations gives the penalty also. It is important that good authority website link to your website. High domain authority websites are those which are already trustworthy in eyes of google. Just spamming links or buying or selling links will trap you in a big penalty.

Anchor Text or word in the links matters :- Wherever links are provided, it is important that the links are given on the keyword you want the website to rank for.

Reputation of the website Matters :- Reputation of the website if a very dominant factor. It generally involves how many social shares you are getting from whose account. It is not like google is directly using these signals but as a SEO Expert I have felt that social shares have a strong indirect signal to search engine.
Now lets explain SEO Process in detail
On Page SEO / OFF Page SEO :- On Page SEO is doing the optimisation on page while Off Page SEO is doing the SEO behind the scene. ON Page SEO includes Content Writing , Architecture and HTML style of the webpage while OFF Page SEO includes building trust of the website, creating links for the website, work for getting personalised results and building reputation.
On Page SEO
Content Writing :- As a SEO freelancer and as a SEO Expert i would say content is queen if website ranking is carrom board. If you dont have quality content you can never be ranked. Understand it by taking an example , if you just copy the content from somewhere how google will differentiate between the original content. But remember google is smart enough to do that and soon your website will be negative ranking for that. So it is always advised not to use copied content. There are many factors while using content as your SEO improvement factor:

Quality Content :- The content should have quality and be useful for user. Suppose your content is not having quality than whoever user is coming to your website will jump back immediately or in a few seconds from your page and that will increase the bounce rate of your website, which will ultimately lead to declining value in eyes of search engine.

Proper Research of Keywords :- After writing quality content , there is need to do proper research on keywords. After doing a thorough research on the keywords that needs to be implemented in the content.

Use of Proper Keywords :- Your quality content should have your keywords on which your website should rank. It is advised to use keywords in your content. It is not like you try spamming google by writing the same keyword multiple times. Google will detect it and penalise you. You cannot also spam google by writing the content in the same colour as your background. Google dont want the website be different for both user and search engine. Some people think they can fool google but that is not true.

Freshness of the content :- Google likes freshness of the content. It doesn't mean that you sit and update your website on a daily or weekly or montly basis. It is just that google has this factor involved in it because of the news section. Suppose there is a earthquake in the city and in the meantime people are searching for the earthquake, and if your website has fresh content in it than you will definitely gain the benefit of Fresh content. But as soon as the freshness factor of google get over your site stops ranking. It doesn't mean that you have done something wrong, it simply means that that factor is no more.

Google Fetch Answers :- Whenever you try to search anything google directly fetches answer from some  webpage and show it. It simply means it has got the answer from that authoritative website which it is showing directly
Architecture :- The second most important ON Page SEO technique is working on the architecture of your website. Google loves hierarchy . Suppose you have Indian Marble and Granite company. Pink Marble , White Marble, Brown Marble, Green Marble, Makrana Marble, Gold Marble comes under Indian Marble and Black Granite, White Granite, Red Granite, Brown Granite, Grey Granite, Gold Granite, Blue granite comes under the Granite. Now if you have further sub-products in Pink Marble than that will come under that.

Crawl :- It becomes easy for google to crawl the website if it is having proper hierarchy. As a SEO Expert or SEO Freelancer , I would never take a SEO project if the website structure is not proper. While using crawl in SEO projects , it is suggested to use proper Sitemaps both in XML and HTML formats. Also to improve the crawl efficiency of Google , it is suggested to properly use robots.txt file so that all the resources of google are not wasted on the pages which need not to be crawled and important ones are not missed.

Mobile Friendly :- In the era of mobile, google works for mobile and it recommends to make a website which is user friendly. Almost more than 67 % of searches are done on mobile and if your webpage is not mobile friendly than you are already out of the game. Google has introduced use of AMP pages (ACCELERATED MOBILE PAGES) to improve user experience on mobile. Remember the keyterm "You have to work on user experience, Search Engine will take care of itself".

Duplicate Content :- Think as a google , you are having a book and you are told to get a page having so a so content and when you start searching the book you get 7 pages with the same duplicate content. Which page you will take out as a result ? Same with google. Google don't like duplicate content on the same website. If you are using duplicate content google recommends to properly make use of 301 redirects and rel=canonical tag.

Site Speed :- Site speed is one of the crucial factor in my eyes. As a SEO Freelancer or SEO Expert why I give emphasis on this is because if a website takes more than 3 seconds to load than you have lost 67 percent of your customers. Again the keyterm comes – you have to ultimately work for user experience. In this era when we are so restless time more than 3 seconds is unacceptable.

URL's :- Google tells your URL should itself give the answer what your page is about. If you are using the url which are self describing than you have plus point and it is easy to index.

HTTPS :- Google wants all web to run on secure layer that is HTTPS. So definitely a plus point is given to the websites having HTTPS protocol
           3. HTML Architecture :- As I have earlier told title tags, meta tags, snippets plays a major role in SEO.
Title :- Use of keywords in title plays a major role in SEO.

Meta Tags :- Meta Tag description is not actually ranking factor. It is the description which is shown just below Title, which catch's eye of user. It is important for me as a SEO Expert or SEO Freelancer because it can improve sales if used properly. You can highlight your keywords in meta description and that catches the eye of user.

Rich Snippet :- Use of rich snippet is the key to success because it catches the eye immediately. Video in the meta description , reviews just below the url are all types of Rich snippet. This is the least used strategy by the SEO Expert

Headers :- Headers are important because it tells google what word is more important and for what the page have to be ranked.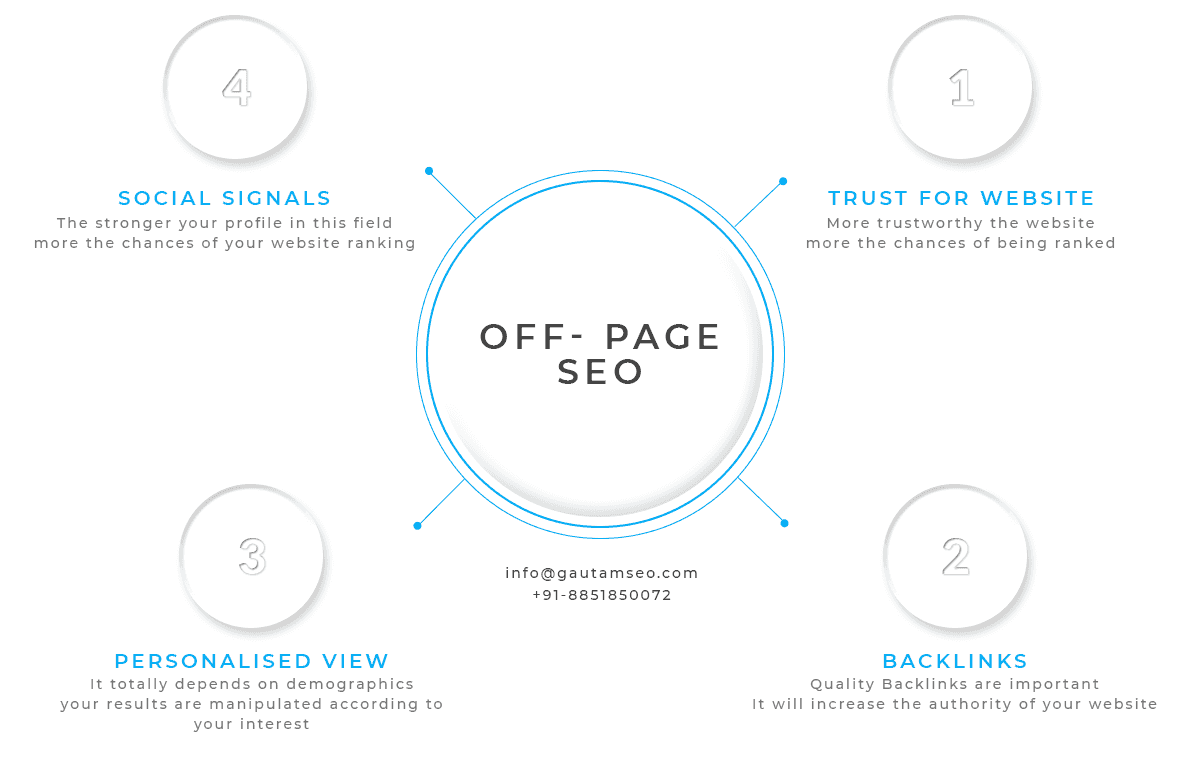 Off Page SEO
Trust for website :- This field comes under off page seo. More trustworthy the website more the chances of being ranked. Several factors which decides the trust of your website are

Authority :- First point comes in this field is Authority of the website. How many authority website are linking to your website matters. How much quality content you are putting on your website. User Engagement ratio decides authority of your website. You are not spamming google that decides your authority. There are many factors which decides the authority of your website.

Engagement :- When a user comes to your website and if he/she immediately bounces back from there, than there is something wrong with your website and it is a strong negative signal for you SEO Ranking. Increase of Bounce rate simply means the user didn't got what he wanted. So overall user experience is affected. There can be many other reasons for this also. So the content, page load speed have to be taken care of.

History :- If your Url is old and already have the authority than you would be given priority above the newbees. Newbees have to face the struggle to gain the trust of Search Engine. When Search Engine starts thinking that the website is useful , it automatically starts ranking the page.

No Piracy and Ads :- It is important to advise here google punish for piracy . DMCA will thumb down that websites and google will penalise the same and in the context of Ads it should not be like this that there are only ads on the pages and only few lines written in terms of content. Google has a high penalty of thin or slim content. So beware of it.

Links :- Another things which comes into consideration is your backlink profile. How many links you are getting from the authority website are definitely important. It will increase the authority of your website also. Quality Backlinks are important. It is not like you are purchasing links from somewhere. Buying and selling links is strictly prohibited in eyes of google. Google has penalised itself also for doing that, than how can it leave for doing so. Spammy links are never useful for your SEO ranking. It will always degrade your website ranking. So keep a check on that.

Personalised View :- There were times when you typed a keyword on google and everybody got the same result . But now things are different. It totally depends on demographics. Suppose if you are sitting in Indian and search the word capital than it might show results for Delhi. While on the other hand if you are in United Kingdom and searching for the word capital , it will definitely show different result. Other than this google also show results based on personal interest. What you are generally interested google keeps record of that and your results are manipulated according to that only.

Social Signals :- Many SEO Expert will tell you that social signals have no effect on SEO Ranking but since I became SEO freelancer by choice , I can argue on this. Definitely they are not the direct signals but they are the indirect signals to search engine. The stronger your profile in this field, the more shares you get, the more the chances of your website ranking.