SOCIAL MEDIA MARKETING is an update of traditional marketing where you can promote your businesses by reaching a huge amount of audience compare to any other type of marketing.
5 years ago, we used to promote our businesses by doing publicity in news paper, local cable network, by distributing pamphlets or placing posters in the public area etc.
But in this era of digitalization, time has changed.
Now the world is on our computer screens and mobile devices. We don't need to go anywhere. We can do anything by our devices. Everything is just a click away from us. Same as that, we can promote our business and can sell our products with social media marketing.
Social media marketing is a form of internet marketing where we can use social media platforms to promote our business or service and can sell products by the help of social media platforms.
The main thing to grow your business is to create a quality and engaging content for your social media where people not only can see the content on your social media handles but can get connects with it also.
Social media marketing is the only way of marketing where you can directly connect with your audience. You can get review of your products. You can get their opinion and suggestions about your product or service and can improve by yourself as per the need of your client. You can giveaway of your products to get more and more customers.
Uses of Social Media for Your Small Business
Approx 50-54 percent of small businesses say they actively use social media. The rest claim they don't have the resources, time, money or energy.
Using social media for your small business is not a big deal. In fact, it's pretty simple once you know a few insiders untold.
If you're ready to make social media work for your small business, read on. TO TWEET
1. Build a Credible Reputation
Building a credible presence for your business on social media isn't that much complicated.
Because you don't need a millions of following to do it!
If you're a local business, you don't need to connect with a lot of people — you just need to connect with the RIGHT people.
You can start by building brand awareness. To create an online presence that's a perfect representation of yours.
Start by brand identity from your logo to your website, blog and social media graphics – you need to design a look and feel that matches your persona.
Find someone who can help create graphics that match your bussiness essence.
2. Attract dedicated Clients
You can do it for local business also; the first step is to make sure the geo tagging on your Facebook Business Page is setup properly.
You only want people to be when they're at your business. Each time someone does that, it's free advertising for you since all their friends will see their check-in.
The average Facebook user has 500 friends (and most of them are local) — so think of each check-in as advertising to 500 new potential clients!
Want even more check-ins? Offer special incentives for people to check-in at your business.
The takeaway — even small changes can make a huge impact on your social media marketing!
3. Connect With Like Minded Business Professionals
In the social media world, relationships and connections are everything.
Whether you're tweeting, posting an image or sharing your thoughts– it's important to connect with like-minded professionals.
You can surf social media 30 minutes in the morning and 30 minutes at night to respond to comments, answer questions and reach out to like-minded business professionals.
4. Diversify Your Marketing Efforts
We've all heard that; don't risk everything on the success of one venture.
Just like with your offline marketing, you should definitely diversify your online marketing efforts.
Does this mean you should build a existence on every social media site?
Absolutely not.
Instead of focusing on the demographic of the customers you have to consider focusing on the customers you WANT.
This information will tell you which social networks you should be spending time on.
Facebook (be sure to setup the geo targeting) Instagram (excellent for small business) LinkedIn (like an international Rotary Club!) Twitter (listening to the conversations on Twitter will provide valuable awareness)
Once you decide which social networks you'll use — be sure to cross promote that content in your other online marketing also!
By diversifying your online marketing, you'll expand the reach of your business further than you can even imagine.
5. Repurpose Top Content
Give people a reason to follow you everywhere! Don't duplicate your content exactly.
Look at each of content in a different way for each social platform.
For example, pull a quote out of an evergreen blog post you tweeted and create a graphic quote to post on Instagram.
Or you can take that helpful tip you gave someone on Facebook and use it to create a 2-minute tutorial on Facebook Live Video or extent it. You can also use that video in a blog post.
Or take your notes from a recent presentation and create an infographic with that information.
The options for repurposing are endless!.
6. Make Your Time and Money Count
As a small business owner you know time is money.
If you want to use social media for your small business in the most efficient way, it's important to FOCUS every time you log onto social media.
Be accountable… to yourself.
When it comes to money, you can make an impact with Facebook Ads with only a few pennies
You can stay within budget and still make it work for you!
7. Drive Traffic to Your Website/Blog
Your website/blog is the foundation of your online marketing efforts.
It's the place where your potential customers will go when they're deciding whether to do or not business with you.
It's what people will remember when they think of your business.
The best advice — do your research!
Use whatever system works best for you — but do your research.
If you want to drive a significant amount of traffic back to your website/blog, you can't base your strategy on guesswork.
8. Use the Right Tools
As a small business owner — the right tools can be your best friends.
They'll help you get organized and create a method to the madness.
Using the right tools will save you time, money and a whole lot of frustration.
Facebook was shrouded in controversy due to its algorithm changes and privacy concerns. Instagram finally came into its own by rolling out a whole slew of business features while also passing the one-billion user mark.
And that doesn't even scratch the surface.
Perhaps what matters most is that you have a strategy after all. To keep your brand from sitting on the sidelines, we've broken down the steps to developing a social media marketing plan to carry you through 2019 with a sense of purpose.
The Most popular social media sites in 2019
1. FACEBOOK (2.23 billion user base)
The biggest social media site around with more than 2 billion peoples using it and thats almost one third of the world's population. More than 65 million businesses utilize facebook to promote their brand.
It's easy to get started with facebook because facebook optimize almost all types of content like text, images, videos, live videos, and stories.
Also optimize your content for mobile devices because 94% of users access facebook on their mobile devices.
2. YOUTUBE (1.9 billion user base)
Youtube is a video sharing platform where audience watch a billion hour of videos every day. To start with it you need to create a youtube channel for your business or brand where you can upload videos to promote your brand.
Youtube is owned by google and its the second biggest social media platform and second most search engine.
To promote your brand on youtube, i would recommend you to read youtube SEO.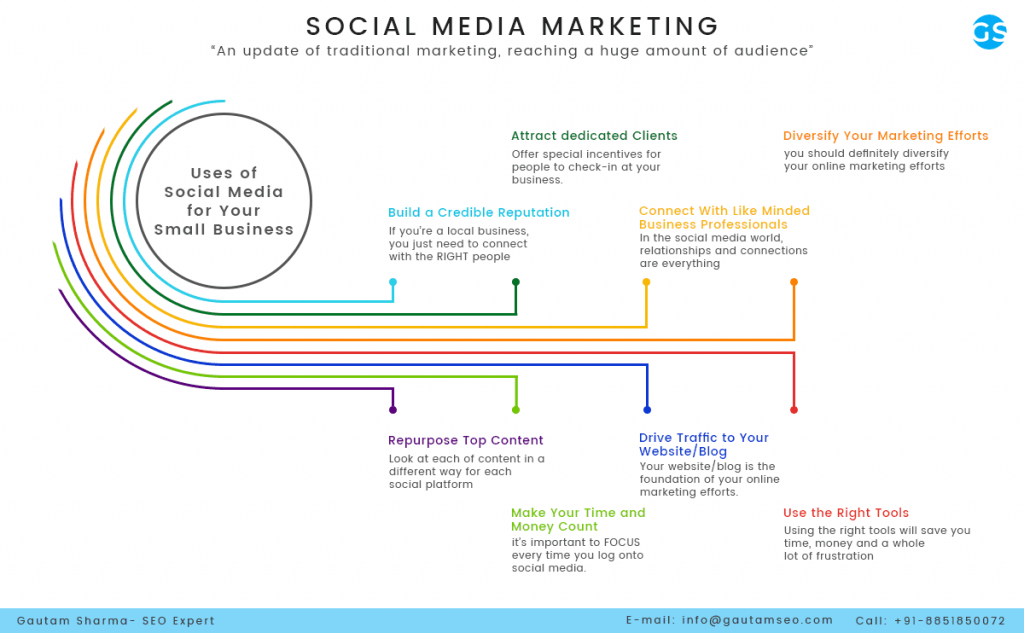 3. WHATSAPP (1.5 billion user base)
It is a messaging app used by people in over 180 countries. It is best platform to communicate with family and friends. Gradually peoples started using whatsapp to communicate with their business professionals.
Whatsapp has built the whatsapp business app for small businesses while for medium and large businesses there is the whatsapp business API.
4. INSTAGRAM (1 billion user base)
Instagram is a photo and video sharing app. You can share a wide range of content such as photos, videos, stories and live videos. It has recently launched IGTV for long duration videos.
It provides you to rich analytics of your profile & posts and the ability of schedule instagram posts using third party tools.
Sample Social Media Goals for 2019
Below are some actionable goals that brands of all shapes and sizes can divide and conquer.
Increase brand awareness. To create authentic and lasting brand awareness, avoid solely publishing promotional messages. Instead, focus on content spotlight your personality and puts your followers ahead of the hard sell.
Achieve a higher quality of sales.
Going through your social channels is quite impossible without monitoring or listening to specific keywords, phrases or hashtags. Through more effective social media targeting, you reach your core audience much faster.
Drive in-person sales. Many brick-and-mortar businesses are on the hunt for a social media marketing strategy that drives in-store sales. Is your brand promoting enough on social to entice folks to come see you? Are you about alerting customers to what's going on in your stores, including promotions and action shots of your store?
Improve ROI. Positive social media ROI doesn't happen by accident. Taking the time to audit your social channels can help keep the cost of labor, ads and creatives down. The end-result is squashing way more out of your social spending.
Create a loyal fanbase. Does your brand promote user-generated content? Do your followers react positively without any sort of initiation? Your customers can be your best cheerleaders and sources of fresh content, but only if you're encouraging them to post on your behalf.
Better pulse on the industry. What are your competitors doing that seems to be working? What strategies are they using to operate engagement or sales? Such analysis can help you better understand how to position your own brand both on social media and off.
Any combination of these explicit goals is fair game and can help you better understand which networks to tackle, too. When in doubt, keep your social media marketing strategy simple rather than muddling it with too many objectives that'll ultimately distract you.
This demographic data isn't fluff, either. These numerical speaks directly to which networks your brand should approach and what types of content to publish. Here are some takeaways:
Facebook and YouTube are both prime places for ads, perhaps due in part to their high-earning user bases The majority of Instagram's users are under the age of 30, signalling the strength of bold, eye-popping content that exude with personality Women vastly outnumber men on Pinterest, which is noted to boast the highest average order value for social shoppers LinkedIn's user base is well-educated, making it a hub for in-depth, industry-specific content that might be more complicated than what you see on Facebook or Twitter
Engagement metrics are essential to building meaningful, lasting relationships with your followers. Large audiences and likable content is great, but here are some additional metrics to keep an eye on in 2019:
Reach. Post reach is the number of total unique users who saw your post. How far is your content spreading across social? Is it actually reaching user's feeds? In the face of ever-changing organic algorithms, tracking reach is arguably more important than ever. Clicks. This is the number of clicks on your content, company name or logo. Link clicks are critical to understand how users move through your marketing funnel. Tracking clicks per campaign is important to understand what drives curiosity or encourages people to buy. Engagement. The total number of social interactions divided by the number of impressions. For engagement, it's about seeing who interacted and whether it was a good ratio out of your total reach. This sheds light on how well your audience perceives you and their willingness to interact. Hashtag performance. What were your most used hashtags on your own side? Which hashtags were most associated with your brand? Or what hashtags created the most engagement?
Organic and paid likes: More than just standard Likes, these likes are defined from paid or organic content. For channels like Facebook, organic engagement is much harder to gain grip, which is why many brands turn to Facebook Ads. However, earning organic likes on Instagram isn't as difficult. Sentiment. This is the quantification of how users reacted to your content, brand or hashtag. Did customers find your recent campaign offensive? What type of sentiment are audiences associating with your campaign hashtag? It's always better to dig deeper and find what people are saying.
An effective social media marketing strategy is rooted in numbers. That said, those numbers need to be put into a context that circles back around to your original goals.
Tags
Facebook Advertising , Target Audience, Video Content, Social Media Content, Media Channels, Sharing Content, Paid Social, Social Media Networks, Social Media campaigns, Facebook and Instagram